While scouting the internet for some cupcake ideas, I came across this site. What a wonderful idea! And some very tempting recipes too!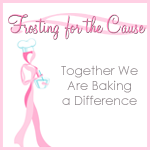 The Project
Beginning January 1, 2011 a total of 365 sugar cookie & cupcake bakers/decorators and bloggers from across Canada and the United States will take turns doing a guest post here at Frosting for the Cause. Once a day, every day for a year you will be treated to a new and talented blogger who will showcase their home-made, hand-decorated cookies or cupcakes together with their recipes. Almost everyone, everywhere, has been touched by cancer in one form or another. The guest bakers will also share in a very personal manner with readers of Frosting for the Cause, about a woman in their life who had to face this terrible disease head-on.
The Goal
By signing onto this project every guest baker/blogger has committed to not only donating a batch of their cookies or cupcakes to their local Women's Hospice but they have also committed to making a personal $25.00 donation to either the Canadian or American Cancer Society to be directed to research projects that are working diligently to find cures specifically for cancers that affect only women. If there is no Women's Hospice in the area of the guest baker/blogger then the baker commits to donating their baked goods to their local hospital or Cancer Society office. Through the generous volunteer commitment of the 365 guest bakers on Frosting for the Cause, we will not only raise awareness of all of the cancers that currently affect women, but we will raise a total of $9,125 alone for research into these diseases.